Darrell Williams was selected as Artist of the Month for July by the Missouri-Southern Iowa Art Guild (MOSI). When his wife suggested painting something entirely imaginary, he responded with an oil painting entitled OOMI1 (Out of My Imagination 1). As suggested by the title, Williams plans sequels to his other-worldly creation of vivid planets, dark sky, and vegetation. The piece is on display in the window of the Kirksville Arts Association at 117 S. Franklin St., Kirksville.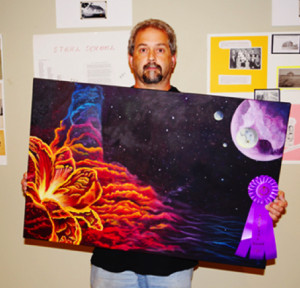 Williams has been interested in art since childhood, when he custom painted Hot Wheels cars for his friends. Although he has enjoyed doodling, wood turning, and other forms of art, his preferred medium is colored pencil for the detail and control that he can achieve. When he lacks the time for detailed pencil work, he turns to oils for the particular look and feel they convey. Williams is an art major at Truman State University, and would like to pursue an MFA after graduation.
Work of several other MOSI artists is currently featured in the downtown windows of  Shelter Insurance and Steve's Deli. For more information, contact Colleen Wagner at [email protected].
Image © Jana Russon; text by Maureen McHale