On May 21, Truman Art Professor Aaron Fine taught an informative and productive day of color theory and practice. Seven MOSI members participated in the workshop. Aaron Fine is a professor of art and the gallery director at Truman State University.
Participants learned about some of the many color theories and went beyond the basics of the color wheel to explore the actual task of using color.
Fine reviewed the color wheels created by students, as they watched the process and listened to his comments.
The participants were challenged to build a 3-dimensional color wheel. It was much tougher than it first appeared.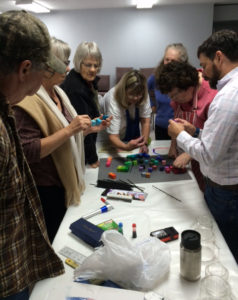 One project was to tear up bits and pieces of plant material (flowers and leaves) to make a natural color wheel.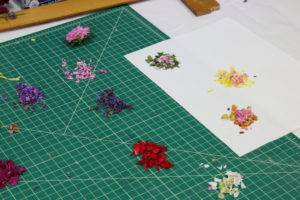 One test compared one contrasting color (here in red) in different piles of colored material (yellow, green, dark purple) and adjust the color (red) until it appeared the same color in all three piles. It was necessary to adjust the red to other colors in order for it to visually match.
Updated 9/10/2016