The Missouri-Southern Iowa Art Guild (MOSI) recently kicked off the first of several workshops with "Introduction to Soft Pastels." Instructor Gin Lammert of Van Buren County, Iowa, guided a group of eager participants at the Kirksville Arts Association gallery in techniques, equipment, and hands-on practice.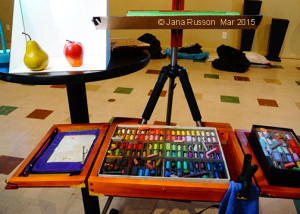 A professional artist for a number of years, Lammert has created landscapes, still lifes, and portraits, and provided framed samples of some of her work. In a live demonstration of technique, she discussed preparation of the work surface and the interaction of colors, with special attention to the role of white in composition. She also suggested sources of materials, methods for customizing or making one's own equipment, and matting and framing techniques for pastel work. During this time, Lammert also sought to understand the knowledge level of the group.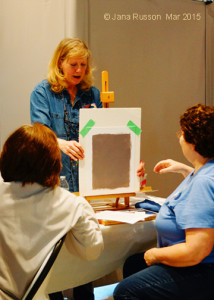 After an introduction to some idiosyncracies of pastels, participants were encouraged to complete a still life of their own from fruit subjects and lighting provided to them. During this hands-on period, Lammert circulated among the work stations to assist participants. She built confidence with frequent reminders that pastels, like oils, are a very forgiving medium. At the close of the evening, the individual interpretations of similar subjects were compared among the students' finished pieces.
Lammert will be presenting a similar pastel workshop in Edina, MO, on May 16 from 10 a.m. to 1 p.m. Another workshop, "Dynamic Design," will be presented by Aaron Fine on Saturday, April 4, 2015, from 9 a.m. to 4 p.m. Other topics scheduled for later this year include Watercolor/Oil Plein Air Landscapes with Jen Wiggs (May 30), Spray Can Art with Darrell Williams (July 18), and Creating Stained Glass with Gigi Wahba (November 14). Preregistration is required for all workshops. For more information on Lammert's pastel workshop in Edina and other MOSI-sponsored workshops, Colleen Wagner may be contacted at (660)988-2694.
Images © Jana Russon; text © Maureen McHale