The Missouri-Southern Iowa (MOSI) Art Guild has already been gearing up for a 2016 fund raising event, where several members will enhance wooden clocks with original designs created in various art media. The clocks will then be available for auction to the public.
Amber Corbett's woodburned design "Strands of Time" on a clock won her title as the current MOSI Celebrated Artist. She began experimenting with woodburning relatively recently, the result of admiring a fellow MOSI member's elegant design on a fund-raiser chair last year. Judy Scheurer was generous in allowing Corbett to try out some of the required tools, and Corbett took off fashioning new work of her own on wood, paper, and fabric. She looks forward to experimenting with paper and mixed media collages, and relating form and function in yet other clocks.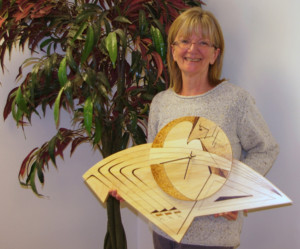 Corbett has always loved art, receiving an A.A. degree in photography. From there, she developed an interest in personal expression in abstracts using watercolor, moving on to acrylics, and later to mixed media. Her recent interest in fiber won her recognition in MOSI's two spring shows, and MOSI's show at Jazzman's café in Pickler Memorial Library at Truman State University last year. She loves to draw, and can be happy with just a pencil and paper, doing realistic or abstract work. Corbett believes that "art is an expression no matter what medium we choose."
Currently Vice President of MOSI, she has been instrumental in linking the new organization into the community through assistance with shows and coordinating displays of members' work in downtown business windows. Commenting on the power of art to relieve stress, she alluded to a trend in marketing coloring books specifically for adults. If there are some community members who have dreamed of trying visual art in some way, she hopes that they will find that place within themselves to see where they "fit" and begin to express their passions. "MOSI is a great organization for inspiration," Corbett says. She invites them to explore their interests by coming to a meeting or participating in a workshop sponsored by MOSI.
Corbett's clock will be on display in the window of the Kirksville Arts Association.