Gigi Wahba of Memphis, MO, was recently selected as Celebrated Artist by the Missouri–Southern Iowa Art Guild (MOSI) or her stained glass window panel entitled "Scottish Thistle." Her inspiration for the piece was twofold: from a desire to create an art deco style motif, and a desire to honor a piece of folklore. Supposedly, the Scottish were saved from takeover when the encroaching English hit a patch of Scottish thistle. A surprised English soldier cried out, tipping off the Scottish to their location.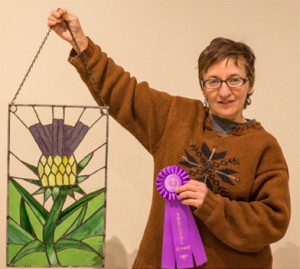 More than 20 years ago, Wahba admired stained glass in homes that she visited, and felt impelled to learn how to create stained glass pieces herself by taking a community college course in Oregon. She feels that it is a very accessible medium, as the required tools are minimal. Although she has created mostly commissioned pieces, she has been expanding her sphere to craft fairs, galleries, and a website. She currently does repair work on stained glass for her clients. Wahba will be conducting a MOSI hands-on workshop, Creating Stained Glass, on Saturday, November 14, 2015.
Although Wahba works with stained glass, she has applied her artistic flair in leading art projects for children. She is also an avid gardener, and has designed vegetable gardens with spiral and labyrinthine patterns, and a variety of vegetables with rich textures and shapes.
"Scottish Thistle" is currently displayed in the window of the Kirksville Arts Association at 117 S. Franklin St., Kirksville, MO. For more information on Wahba's stained glass workshop and other MOSI workshops and MOSI activities, contact Colleen Wagner at (660) 988-2694.
Text by Maureen McHale