Tuesday evening March 11 , 2014, Kirksville Arts Association hosted the reception for MOSI artist/painter Dave Carters one-person show, Places of Rest. Dave is one of the founding members of MOSI and it's first vice president.
Here are some pictures representing the folks that came out to see the beautiful paintings.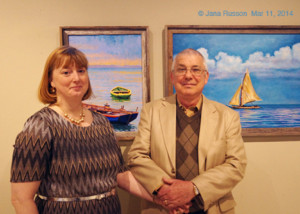 Dave and his wife Sally stand in front of some lovely San Diego scenes.  Dave gave Sally the picture of the two boats at the left, but she was kind to let him use it on loan for this exhibit.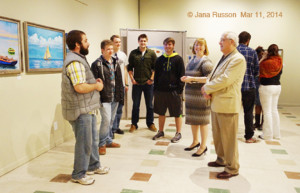 Dave has many students, young and old, from this area because he teaches art and painting from his Franklin Street studio, dave's studio—Visual Art Services.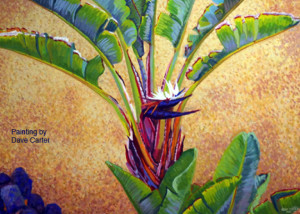 Just imagine painting this bird of paradise plant with bloom. Inspire yourself while you look at his paintings. Don't miss the exhibit which is up until the end of the March.
Guests enjoyed an array of fresh food and drink.
As you view the show you may notice that there are several groupings called triptychs, meaning three images that are meant to be hung together.
Don't miss this show. Check the KAA gallery hours on the website  and get by to look at these beautiful pieces.
Dave is often available in his studio for the many reasons. Dave Carter: signs & banner service, arts & crafts supply store, arts & entertainment – dave's studio—Visual Art Services, 214 N. Franklin St., Kirksville, MO.
Images © Jana Russon and Dave Carter